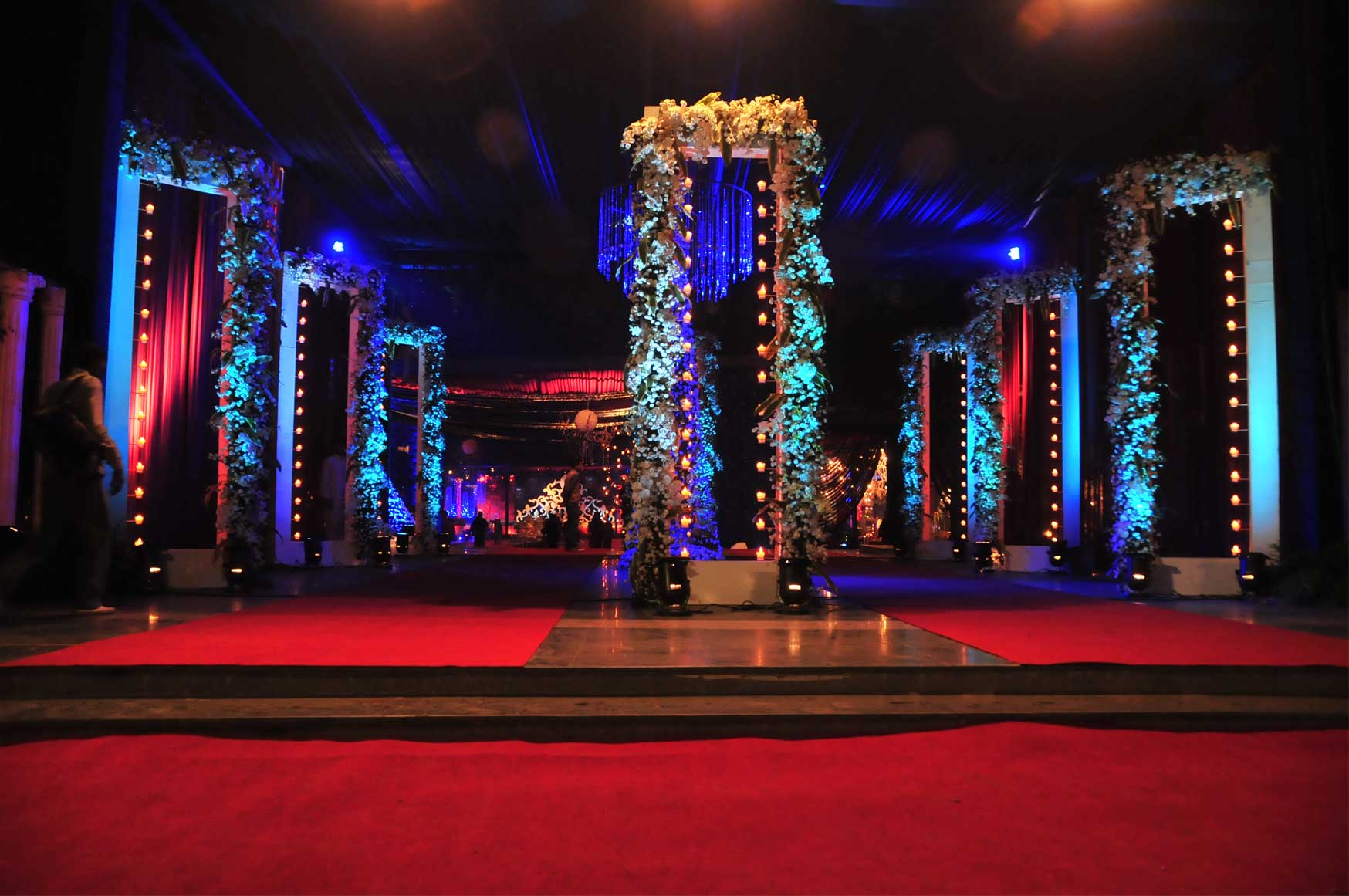 A wedding planner does much more than just plan a wedding. He/she choreographs the whole ceremony. He is the partner you confide in when you feel stressed or are in doubt. A wedding planner takes care of all the arrangements and does much more. He is a friend indeed. He is a family member. A person you can trust and can leave the intricacies of the most important event of your life to him. Wedding Eye embodies that culture, the tradition of going beyond duty to serve our customers.Nobody said planning a wedding was easy, but we make it easier for you! That's exactly what we want you to feel. By using the best technology and software, when you work with us you'll feel 'at our side' at every step of the planning process. You'll be able to check in and have complete visibility at all times and will be able to contact us however best works for you, whenever works best for you.
Wedding Eye is an epitome of happiness. Having a professional team by your side to put together all you dream of and set it all up for you on the day saves so much time and unnecessary stress allowing you to relax and enjoy. Time is not usually a luxury you have in the lead to your big day. Our mission is to create bespoke styling and offerwedding planning services in Delhi NCR, Mumbai, Chandigarh as well as destination weddings in India and around the world.You name it and we have delivered that type of wedding, whether you are dreaming of a beachfront all-inclusive property in Goa, Bahamas or a quaint castle in Udaipur, we will help make your dreams of the perfect destination wedding reality. From a sprawling family-friendly resort to a chic and fabulous fort, we provide you a world of choices. No matter what, you'll be swept away by the wondrous beauty of what pans out in front of your eyes. With seemingly endless backdrops to choose we will help you select a wedding that aligns with your budget, location and style choices.
There will be no guesswork when it comes to choosing wedding vendors at your destination because our experience and expertise has a thoroughly vetted list for you to choose from when you are booking your music, photography, catering etc. Our long-lasting relationships provide us access to discounts on all products and services. Our prices are unbeatable as well as affordable. In addition, when you dream of a secluded beach or a magnificent church for a destination wedding that means some paperwork that you really do not have time for. We know all the ins and outs of securing permits to get married, the official licenses for any kind of ceremony –Hindu, Muslim, Christian, Parsi etc. Not just that, we have activities for your guests as well. From wine tasting to cooking classes we love it when it comes to exciting activities to keep your guests busy during their visit. A destination wedding opens up a new culture and we want to make sure your guests will take the best memories on their way back.Having organised wedding all over the world, we know the best attractions, activities and accommodation to recommend to your wedding guests.
We work in a very professional and organised way. We spot the ideal location to master and execute what we have planned. After we receive your inspiration pictures and references we undertake combining an artistic approach combined with grounded perspective so that we can convert your dreams into reality. We are specialists in designing unique celebrations that reflect old and new traditions and satisfy our customer's style and needs, creating memories that will last a lifetime. We are so famous and successful because we chart real wedding stories with no superficial and all authentic experiences. With Wedding Eye, everything is possible.
Not just full-blown marriages, if there is just the two of you who want to get married in a secretive yet intimate way, we can make that happen as well. Many a times couples prefer to have some or no guests at all. We provide our professional assistance to make your secret a dream come true by supervising and arranging everything for you. This package is ideal for symbolic weddings, if you are planning for an intimate civil wedding contact us and we will make it memorable.Ahead of us is the promise of adventure, fun and delight and we make it our job to ensure every celebration has this spirit present – for occasions that touch you heart and soul.
We are open to suggestions from all our clients. We will never dismiss an idea or concept or theme. We believe that every idea can be executed beautifully, and we work hard to meet and exceed your expectations. You get to choose how you want to go about things. If you're detail driven, you can be as involved as you want to be in the preparation of your wedding and we will take direction from you as to how you wish to work with us.Similarly, we respect all faiths, cultures, sexualities and traditions and encourage you to share your customs and traditions during your wedding. We will incorporate them in the ceremony and give the desired touch to the wedding.
We have provided a list of numerous successful clients who have had the experience of a lifetime with us. Their joy and happiness are unparalleled and provides us the motivation to move forward. It is this warmth and affection that we yearn for. Come join in on the fun. Contact us for a free consultation. Give us the key to your house and we will make it grand and special! Wedding Eye are the best Wedding Planners in Delhi and we wish to continue serving our happy customers.